Mitt Romney skips 'Nick News' questions session with young viewers
Mitt Romney decided against it, but Barack Obama showed up for an election special on the kids' news program 'Nick News.'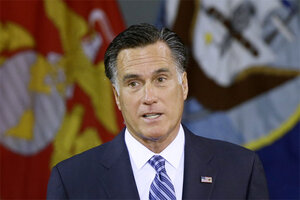 Charles Dharapak/AP
American kids are getting their chance to pick the country's next president, but this year they will have to do it without putting their questions directly to Republican contender Mitt Romney.
Award-winning "Nick News" host and producer Linda Ellerbee said on Monday that President Barack Obama sat down to answer questions from young viewers on the election, but Romney's aides turned down an invitation for him to appear personally on the show's long-running "Kids Pick the President" special.
"By answering kids' questions directly, candidates show respect for kids," Ellerbee said in a statement. "We are disappointed that Mitt Romney wouldn't take the time to answer the questions, but are thrilled that President Obama participated in the special."
Instead, the show will use previously taped video clips of Romney addressing some of the issues important to kids, and will run biographies of both candidates.
---