Middle-class students are taught by parents to speak up, says study
Middle-class parents teach kids to ask for help while working-class parents tell their children to avoid conflict and be self-sufficient, according to a new study.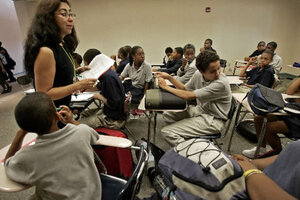 AP Photo/Ric Francis
If it's the squeaky wheel that gets the grease, middle-class children are more likely than their lower-income peers to grow up learning how to make the gears of the education system turn smoothly.
Working-class parents, meanwhile, tend to raise their children to avoid conflict and be self-sufficient in problem solving, an Indiana University researcher says.
The findings, the latest from a longitudinal study of Pennsylvania students, suggest parents of different classes may teach their children very different approaches to navigating the school system and championing their own education, priming them for later academic challenges or success.
The study, presented at the American Sociological Association conference in Denver this month, comes as the National PTA expands an initiative intended to help parents learn education advocacy.
"What we see typically is, often those parents had problems themselves in school," said Sherri Wilson, the National PTA's senior manager of family and community engagement. As a result, "they are reluctant to ask for help from school themselves, and also they do not encourage their children to ask for help because they don't want to draw attention."
---