Justin Bieber: The next anti-cyberbullying advocate?
Justin Bieber is now an anti-cyberbullying advocate – prepare yourself for a fresh onslaught of 'Bieber Fever.' The young vocalist released an anti-cyberbullying video on Wednesday.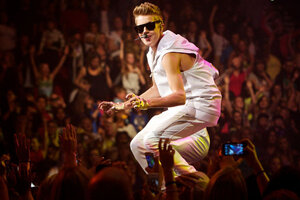 AP Photo/The Oregonian, Thomas Boyd
Justin Bieber's new anti-cyberbullying video helped his manager and a record executive resolve a legal predicament.
The video released Wednesday by a New York prosecutor is part of a plea deal settling misdemeanor charges filed after a fan frenzy at a mall in 2009.
The manager and executive were arrested after police ordered a Bieber autograph session at a clothing store, shut down over fears someone could get hurt. More than 3,000 teens and younger girls had arrived by one p.m. for an event scheduled for four p.m., leading to the cancellation.
Bieber never appeared, but police said at one point while they were trying to disperse the crowd, they were hindered by a message from Bieber's Twitter account stating: "On my way to Roosevelt Field Mall in Long Island, NY to sign and meet fans! I'm pumped. See u there."
Prosecutors said police had asked Bieber's staff to send a tweet from his account to notify fans that the event was cancelled. Though they tried, Island Def Jam Record Music Group employees were unable to tweet on Bieber's account because the singer's manager, Scott Braun, had changed the account's password to prevent anyone from canceling the event.
---