Anti-bullying program grows despite being accused of gay agenda
A national anti-bullying program has organized 3,000 schools to participate in "Mix It Up at Lunch Day." The American Family Association, a conservative Christian group is boycotting the event, labeling it a nationwide promotion of gay lifestyle.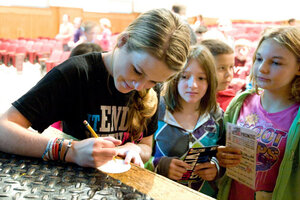 Nikki Fox/The Daily News-Record/AP
A record number of schools will participate in a national anti-bullying program, organizers said, despite a conservative Christian group's push for a boycott of the event on the grounds it would "promote the homosexual lifestyle in public schools."
Nearly 3,000 schools nationwide - about 30 percent more than last year - will take part on Oct. 30, in "Mix It Up at Lunch Day," an annual event that encourages students to sit by someone in the cafeteria with whom they would not normally socialize.
The initiative is organized by the Southern Poverty Law Center, a rights group that defines "Mix It Up Day" as an opportunity to teach students tolerance. The center makes no reference to homosexuality in its program overview, listing it only as a sample topic among dozens of others that schools can chose to discuss.
---