Paul Ryan and his modern family on the campaign trail
Paul Ryan and his modern family were on the campaign trail together last weekend. Mr. Ryan's three kids, all under age 10, are adjusting to the national spotlight as their dad campaigns for vice president.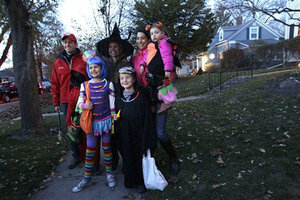 Mary Altaffer/AP
Liza likes to wear smart clothes and wave to the strangers. Charlie is "the shy one." Sam mugs for cameras every chance he can. All of this would be unremarkable behavior for a trio no older than 10 if their father, Paul Ryan, weren't running for vice president.
A regular presence on their father's campaign in its last days, the trio of tikes fires T-shirts into the crowd from slingshots and seems to enjoy the shift from small town Janesville, Wis., to motorcades across the country. They joined their parents here on Nov. 4, to tailgate before the Green Bay Packers' game and tossed beanbags with their father — while hundreds craned for a peek at the potential second family of the United States.
---