White House kids speak out: Growing up in the president's pad
White House kids Steve Ford, Jenna Bush Hager, Barbara Pierce Bush, and Lynda Johnson Robb talk about growing up with Dad as president, playing Led Zeppelin, and Mom still cooking dinner.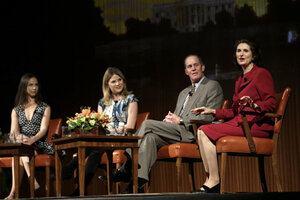 David J. Phillip/AP
Whether it was to sneak a first kiss or listen to Led Zeppelin, climbing onto the roof of the White House was apparently a popular practice among a few presidents' children.
Top 5 parenting tips for media literacy in preschoolers
Steve Ford garnered laughs during a panel discussion Nov. 17 with fellow children of former presidents as he recalled dragging a stereo onto the roof with a friend his first night there in 1974.
A teenager at the time his father took office, he said, "I think we were playing like Led Zeppelin's 'Stairway to Heaven.' Literally, it was like 'Dumb and Dumber.'"
Jenna Bush Hager later told Mr. Ford, "You can still get up on that roof, because I had my first kiss with my husband up there."
Her twin sister, Barbara Pierce Bush, and Lynda Johnson Robb also spoke during the conference, which is part of a series focusing on the nation's first ladies. But yesterday's event was the first in which their children have participated, offering a different perspective about life in the White House.
---