'The Price is Right' model wins pregnancy discrimination suit
'The Price is Right' producers were ordered to pay nearly $777,000 to former model Brandi Cochran, who said in her discrimination suit that she lost her job because of her pregnancy.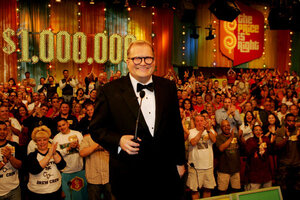 Monty Brinton/CBS/AP
Jurors awarded nearly $777,000 on Nov. 20 to a former "The Price is Right" model who claimed she was discriminated against by producers because of her pregnancy.
Brandi Cochran, 41, said she was rejected by the game show's producers when she tried to return to work in early 2010 after taking maternity leave.
The Superior Court jury determined her pregnancy was the reason she wasn't rehired and awarded Ms. Cochran $776,944 in the suit against producers FremantleMedia North America and The Price is Right Productions.
In their defense, producers said they were satisfied with the five models working on the show at the time Cochran sought to return.
A second phase of the trial will determine whether Cochran should be awarded punitive damages. Cochran's attorneys had asked for more than $8 million, City News Service reported.
---