Potty training Chinese style: With a diaper-free child, look for potted plants
Potty training Chinese style fascinates Western expat moms who see the diaper-free baby style as a form of environmentalism – but they watch for potted plants, just in case. For Junior to "go" on command is a mother's dream.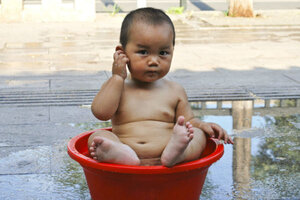 Courtesy of Casey Hynes
Lucy Hornby lives life on the edge. She recently took her 18-month-old son, Oliver, out to lunch. And he wasn't wearing a diaper.
[Editor's note: The original version of this story misspelled the name of Lucy Hornby.]
"There was a bush nearby. I felt like we had an escape hatch," says the Beijing-based Reuters reporter.
That's because Ms. Hornsby and her husband have been using an ancient Chinese method of toilet training, with some success. Called "elimination training" or "elimination communication," the practice encourages babies and toddlers to use the toilet on demand while a caregiver is making whistling or shushing noises. Eventually, the baby learns the cue to "go" on cue and becomes diaper-free.
Move over, Sigmund Freud.
Using slit-bottom pants called kaidangku, Chinese children have traditionally used very few diapers. Instead, they're encouraged from as early as a few days old to release when they're held over a toilet. And when they're out in public, they often wear kaidangku, which allows them the freedom to do what they need to do in a tree box, on the sidewalk, or while they're being held over a trash can.
---