Kate Middleton pregnant: Where is the child in the line of succession?
Kate Middleton pregnant: Prince William and the Duchess of Cambridge could have a boy or girl, but it won't change the line of succession. The Royal Family is "delighted' that Kate Middleton is pregnant.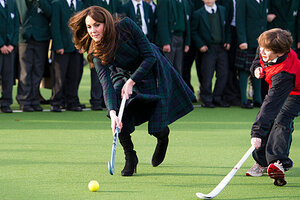 AP Photo/Arthur Edwards, Pool)
Get the nursery ready: Prince William and his wife Catherine are expecting their first child.
St. James's Palace announced the pregnancy Monday, saying that the Duchess of Cambridge — formerly known as Kate Middleton — has a severe form of morning sickness and is currently in a London hospital. William is at his wife's side.
The palace said that since the pregnancy is in its "very early stages," the 30-year-old duchess is expected to stay in the hospital for several days and will require a period of rest afterward.
William is second in line to the throne after his father, Prince Charles, so the couple's first child would normally become monarch in due course.
In recent days, Middleton has kept up royal appearances — recently playing field hockey with schoolchildren at her former school.
The confirmation of her pregnancy caps a jam-packed year of highs and lows for the young royals, who were married in a lavish ceremony at Westminster Abbey last year.
They have traveled the world extensively as part of Queen Elizabeth II's diamond jubilee celebrations and weathered the embarrassment of a nude photos scandal, after a tabloid snapper published topless images of the duchess.
---