Judge rules Texas school can force student to wear RIFD locator chip
A federal judge says a Texas high school can require a student to wear an RIFD locator chip during school hours, or expel her. Privacy rights advocates had argued it's an invasion of privacy; the school needs it to count students on the premises for funding reasons.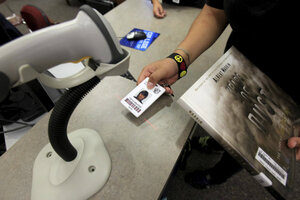 Associated Press
A public school district in Texas can require students to wear locator chips when they are on school property, a federal judge ruled on Tuesday in a case raising technology-driven privacy concerns among liberal and conservative groups alike.
US District Judge Orlando Garcia said the San Antonio Northside School District had the right to expel sophomore Andrea Hernandez, 15, from a magnet school at Jay High School, because she refused to wear the device, which is required of all students.
The judge refused the student's request to block the district from removing her from the school while the case works its way through the federal courts.
The American Civil Liberties Union is among the rights organizations to oppose the district's use of radio frequency identification, or RFID, technology.
"We don't want to see this kind of intrusive surveillance infrastructure gain inroads into our culture," ACLU senior policy analyst Jay Stanley said. "We should not be teaching our children to accept such an intrusive surveillance technology."
---