Father, sons die hiking after missed turn in Missouri mountains
A father and his two young sons died after taking a wrong turn on a hike in Missouri and being caught in freezing temperatures and a rainstorm. Their Labrador puppy survived and was still with them when authorities arrived.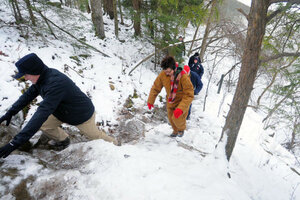 Associated Press
On a weekend trip that was a surprise anniversary gift for his wife, an outdoors-loving Air Force veteran ventured out with two of his sons for a hike on a remote trail. Clad only in light jackets and sweaters, the three apparently didn't know how rapidly the weather would turn ugly, and that proved deadly.
Searchers found the soaked bodies of 36-year-old David Decareaux and the two boys — ages 8 and 10 — on the Ozark Trail on Sunday, a day after Decareaux declined a passerby's offer of a ride back to the lodge where they had been staying, Reynolds County Sheriff Tom Volner said. The cold had killed them, he said.
Only the family's 4-month-old yellow Labrador retriever survived the hike. He was found near Decareaux, who died at the scene, and the two boys, who were declared dead at a hospital after hours of efforts to revive them failed.
The tragedy crushed Decareaux's father-in-law, Keith Hartrum, who described the family as tightly knit, "always on the go and adventurous."
"Dave was a great guy, a good father, son-in-law and husband," Hartrum told The Associated Press. "Those two boys were just precious — smart, very nice kids."
---