NYC bus strike: 152,000 students affected
The NYC bus strike began Wednesday, Jan. 16, leaving 152,000 students without a way to school. The NYC bus strike was called over fears that bus drivers may lose their jobs when the current contract expires in June.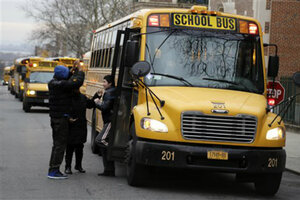 Associated Press
More than 8,000 New York City school bus drivers and matrons went on strike over job protection Wednesday morning, leaving some 152,000 students, many disabled, trying to find other ways to get to school.
Schools Chancellor Dennis Walcott said the strike started at 6 a.m. Wednesday. About 200 bus drivers and bus matrons, who help kids on and off buses, were assembled on picket lines in the Queens section of the city.
"The first days will be extremely chaotic," Walcott told 1010 WINS radio. "It hasn't happened in New York City in over 33 years."
The union did not immediately return calls and emails seeking comment.
Matthew Mosca said his 5-year-old daughter, Ella, usually takes the bus from their home on Manhattan's East Side.
On Wednesday, they took a taxi.
"It's an inconvenience but I support the strike," Mosca said.
On Staten Island, parent Alicia Vuscemi had more scrambling to do, with kids at three different schools. Her son attends school in Brooklyn, and she got a pleasant surprise when his bus arrived. "I was still trying to figure out how he was going to get there," she said.
---