Utah avalanche survivor meditated, had a serene feeling of safety
Utah avalanche survivor Elizabeth Malloy meditated and felt serene about surviving before passing out under 18 inches of snow. Her boyfriend dug her out and revived her.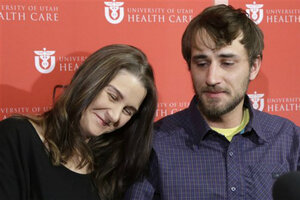 AP
A 43-year-old Utah woman who survived an avalanche says she felt a 'strange serenity' while trapped under the snow before she went unconscious.
Elisabeth Malloy suffered frost bite in her toes and fingers, but lived to tell her harrowing story thanks to her boyfriend, avalanche rescue beacons, a skier that wandered by, and avalanche rescue teams.
She and her boyfriend and ski partner, 30-year-old Adam Morrey, spoke at length about their experience during a press conference yesterday afternoon at University Hospital in Salt Lake City. They said they were fortunate to be alive after they triggered and were engulfed by a 700-foot wide avalanche while skiing in the mountains east of Salt Lake City on Jan. 12.
Ms. Malloy said it felt like a water slide as she slid face first on her stomach down the mountain in the avalanche. She meditated, breathed slowly, and told herself that it wasn't her time to die during the few minutes before she lost consciousness while buried about 18 inches into the snow.
"It was surreal, as quiet and as embryonic without being water that I could imagine," said Malloy, a pediatric nurse. "I had this feeling that I was going to be fine."
She said she remembered being awoken by "sweet kisses" from Morrey, then feeling very cold and asking for a "hot toddy."
---