College freshman survey: finance worries up, liberalism down
UCLA's survey of incoming college freshmen shows fewer identify as liberals and an increasing number saying the economy significantly affected their college choice.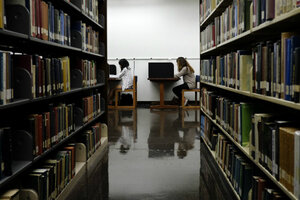 Associated Press
Each year since 1966, UCLA's Higher Education Research Institute has conducted a massive survey of incoming freshmen at four-year colleges, asking questions about their motivations, their plans and their political views. Typically, big shifts are only apparent over long time periods. But sometimes economic and political currents can lead new college students to give responses noticeably different from what their predecessors said.
This year's survey, released Thursday, is based on the responses of 192,912 first-time, full-time students at 283 four-year colleges. The responses are statistically weighted to reflect the broader population of such students — approximately 1.5 million at 1,613 institutions nationally.
Here are some key findings:
—Two-thirds of incoming freshmen (67 percent) said their choice of which college to attend was significantly affected by current economic conditions, up from 62 percent two years ago, when UCLA first asked the question. More are also deciding to live with family or relatives (17 percent, up from 15 percent last year) and fewer in dorms (76 percent, down from 79 percent a year ago).
—About 84 percent expect to graduate from college in four years. In fact, only about half are likely to do so.
---