Harbaugh family on Super Bowl rivalry: "Can it end in a tie?"
John Harbaugh pranks his parents during their interview with the Super Bowl press. He asked if they liked his brother, 49ers coach Jim Harbaugh, better. The Harbaugh parents have been insisting that they have no special allegiance to either son in the upcoming Super Bowl.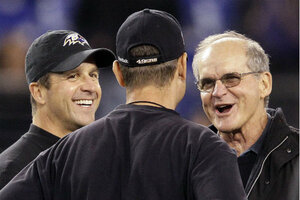 Associated Press
It's 1972: Brothers and future Super Bowl 2013 opponents Jim Harbaugh and John Harbaugh are sitting in the back of their father's car with their hats over their ears. They're unhappy. the boys are heading to elementary school. The family is living in Iowa now – they would move 17 times in their lives – and it's winter. Their dad, Jack Harbaugh looks back at his boys and sees their faces, their sad, sad faces, he says.
So Jack Harbaugh, then an assistant coach at University of Iowa, gives them a pep talk.
"Our thing was, 'We'll attack this day with an enthusiasm unknown to mankind! And don't take any wooden nickels,'" he bellowed on a phone call with reporters today, before breaking character, lowering his voice and adding, "I don't know what a wooden nickel is, but it sounded good at the time.
Did the sibling rivalry, which in the weeks preceding the Super Bowl has resulted in smug word mutations like "Harbowl" and "Superbaugh," begin there in that car over who would give the most effort.
No, the Harbaugh brothers' father, mother, and sister said. There is no rivalry.
---