Boy Scouts of America reconsidering policy on gay members
The Boy Scouts of America is reconsidering its policy banning gay scouts. The Boy Scouts announcement that it may reconsider its gay scout policy comes after years of protests and a decline in membership.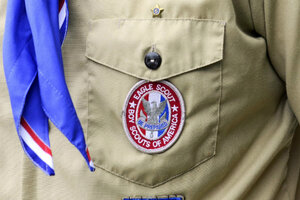 Reuters
The Boys Scouts of America is considering a dramatic retreat from its controversial policy of excluding gays as leaders and youth members.
Under the change now being discussed, the different religious and civic groups that sponsor Scout units would be able to decide for themselves how to address the issue — either maintaining an exclusion of gays or opening up their membership.
Monday's announcement of the possible change comes after years of protests over the policy — including petition campaigns that have prompted some corporations to suspend donations to theBoy Scouts.
Under the proposed change, said BSA spokesman Deron Smith, "the Boy Scouts would not, under any circumstances, dictate a position to units, members, or parents."
The Boys Scouts, which celebrated its 100th anniversary in 2010, has long excluded both gays and atheists. Smith said a change in the policy toward atheists was not being considered, and that the BSA continued to view "Duty to God" as one of its basic principles.
Protests over the no-gays policy gained momentum in 2000, when the U.S. Supreme Court upheld the BSA's right to exclude gays. Scout units lost sponsorships by public schools and other entities that adhered to nondiscrimination policies, and several local Scout councils made public their displeasure with the policy.
More recently, amid petition campaigns, shipping giant UPS Inc. and drug-manufacturer Merck announced that they were halting donations from their charitable foundations to the Boy Scouts as long as the no-gays policy was in force.
Also, local Scout officials drew widespread criticism in recent months for ousting Jennifer Tyrrell, a lesbian mom, as a den leader of her son's Cub Scout pack in Ohio and for refusing to approve an EagleScout application by Ryan Andresen, a California teen who came out as gay last fall.
---