Anti, pro-gay groups converge on Boy Scouts of America headquarters
Boy Scouts of America board members are set to take on the organization's national ban on gay membership this week. Groups in support and against the policy have converged on Boy Scouts of America headquarters in Texas, where a vote on the ban is expected Wednesday.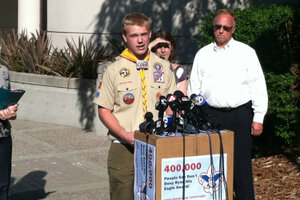 Reuters/Change.org
Boy Scouts of America board members will meet this week to debate ending a controversial national ban on gay membership, prompting groups both for and against the move to converge on its Texas headquarters for demonstrations.
The national executive board, which lists more than 70 members, is expected to vote on Wednesday, the last day of a three-day meeting, on whether to lift the ban they had reaffirmed just last year amid criticism from gay rights groups and gay former Scouts and Scout leaders.
The Boy Scouts has not responded to inquiries about the private meeting, but activists for and against lifting the ban said they expected a vote on Wednesday.
The organization said on Jan. 28 that it was considering removing the national restriction based on sexual orientation and leaving the decision to local chapters. It said it would not dictate a position to units, members or to parents.
Gay rights activists have said lifting the national ban, but allowing local units to maintain a ban, would not go far enough.
The board meeting comes as the century-old youth organization that prides itself on teaching boys life skills such as camping and leadership, faces membership declines and a donations boycott by some corporations over its anti-gay policy.
Youth membership in the Boy Scouts has dropped 21 percent since 2000 to nearly 2.7 million. Adult leader membership has fallen 14 percent to just over 1 million, and the number of units has declined 12.6 percent to 108,971.
Activists have pressed corporations, including Merck and UPS, as well as the Intel Foundation to withhold contributions to the Boy Scouts while the ban stands.
The Boy Scouts has also faced criticism for keeping from public view files covering decades of reports of child sex abuse in the organization. It released thousands of pages of files covering 1965 to 1985 in October under a court order.
---