First lady's anti-obesity campaign ignites change in food industry
First lady Michelle Obama's anti-obesity campaign, "Let's Move," has inspired some in the food industry to change. Wal-Mart, doing its part to incorporate the first lady's anti-obesity campaign into its stores, has started labeling foods. Others ignore her recommendations as government intrusion.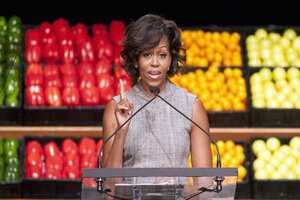 Associated Press
Wal-Mart is putting special labels on some store-brand products to help shoppers quickly spot healthier items. Millions of schoolchildren are helping themselves to vegetables from salad bars in their lunchrooms, while kids' meals at Olive Garden and Red Lobster restaurants automatically come with a side of fruit or vegetables and a glass of low-fat milk.
The changes put in place by the food industry are in response to the campaign against childhood obesity that Michelle Obama began waging three years ago. More changes are in store.
Influencing policy posed more of a challenge for the first lady, and not everyone welcomed her effort, criticizing it as a case of unwanted government intrusion.
Still, nutrition advocates and others give her credit for using her clout to help bring a range of interests to the table. They hope the increased awareness she has generated through speeches, her garden and her physical exploits will translate into further reductions in childhood obesity rates long after she leaves the White House.
About one-third of U.S. children are overweight or obese, which puts them at increased risk for any number of life-threatening illnesses, including diabetes, high blood pressure and heart disease.
While there is evidence of modest declines in childhood obesity rates in some parts of the country, the changes are due largely to steps taken before the first lady launched "Let's Move" in February 2010.
---