Hot air balloon crash: Despite risk, adventure tourism on the upswing
Hot air balloon crash in Egypt leaves 19 dead. A woman on a hiking trip in Hawaii swept away and drowned. Adventure vacations have serious consequences, some like the balloon crash and hiking trip happened recently, but the industry is growing.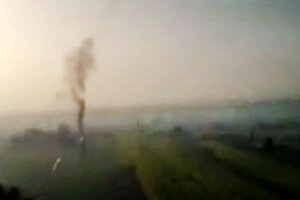 Associated Press / Al Jazeera
When Carole Rosenblat was growing up in the 1970s, her parents' idea of an adventurous vacation was "driving cross-country from Michigan to California in a non-air-conditioned car with three kids."
Her idea of adventure is a little different: "Jumping out of planes — things like that. Parasailing, hot-air ballooning. These things make you know you're alive!"
And the balloon accident in Egypt that killed 19 people Tuesday is not likely to deter her from future adventures. "It does not give me pause at all," said Rosenblat, a freelance writer and occasional tour guide based in Gilbert, Ariz.
Rosenblat's attitude is part of what's fueling worldwide growth in adventure travel. It's an $89 billion industry, according to the Adventure Travel Trade Association, and it has grown 17 percent in each of the past two years, according to the association's president, Shannon Stowell. That's four times the rate of the overall tourism industry, which grew about 4.6 percent in 2011.
But while travelers may think nothing of bungee-jumping or whitewater rafting as the perfect way to bring home bragging rights, these types of activities are not risk-free. Indeed, while statistically rare, accidents involving adventure vacations happen on a regular basis. To cite just a few recent headlines: This past weekend, a woman was swept away and drowned in Hawaii on a hiking trip with 55 people. Recreational diving deaths have been reported this month in both California and Florida. A woman parasailing in Florida last summer died when her harness gave way, one of 70 parasailing deaths in the past 30 years. And 54 skiers and snowboarders died in accidents on US ski slopes last season, according to the National Ski Areas Association.
---