Wary of petting, dog relents in company of former, current master
Patti is more like a wild dog than a pet to the families she's belonged to. The shepherd mix is a recluse — refusing to be petted, running away from humans. Until one weekend, during an exchange that would send Patti back to her original masters, she surprisingly let down her guard.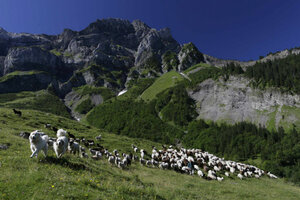 Reuters
The big, elusive dog lay sedated in a ball on the floor of an Armstrong County family's basement.
Nearly a dozen people who share a love of the 8-year-old Anatolian shepherd-Great Pyrenees mix gathered around, crying and marveling how a dog so leery of humans attracted such a devoted following.
"You don't even like people, but so many love you," said Jackie Deems, an Ohio woman who once owned the herding dog and on Saturday drove eight hours to claim her after a three-year separation. "Look at all these people here, just for you."
The approximately 170-pound dog — originally Patti, but renamed Lily by the Apollo family who wound up looking after her for the past two years — has had many homes. Deems hopes this move is Patti's last.
Her story started on a farm in Appalachia, Ohio. Deems bought Patti and her sister, Sweetie, from a family there when the pups were 10 months old. Deems said the family did not know how to care for the animals and kept the roaming, herding dogs in a small metal cage with no protection from the hot August sun.
"I said to my husband, 'Whether we want these dogs or not, we've got to take them,'" Deems recalled. "They need to be out, doing their job. No wonder she doesn't trust humans."
The Deemses run a farm in Perrysville, Ohio, about an hour west of Canton, where they have 70 sheep. Patti looked over them as if they were her children, Deems said. When one sheep died, Deems found her in the morning, still on guard by its body.
"When she guards animals, they're all she cares about," Deems said.
Patti kept predators off the property, but also patrolled outside the Deems' fence. Neighbors complained and threatened to shoot her.
Reluctantly, Deems found a family in Avonmore, Westmoreland County, to take her. The family raises sheep and had an electric fence surrounding the property. Deems sedated Patti for the drive and handed her off.
---