Dresses donated to rural Alaskan prom held in shadow of a sleeping volcano
In a rural Alaskan boarding school, away from moms and dads, prom dresses are hard to come by. But thanks to a volunteer organization teamed up with Alaskan Airlines, girls at this boarding school received free dresses and primping for their big night.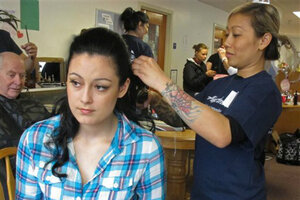 Mark Thiessen/Associated Press
For girls, proms are all about the dresses. Kayla Wolfe just never imagined what it would take to pick one.
First, there was what felt like a million questions. "What kind of dress was I looking for? What size am I? What kind of color? Long or short?" said the 15-year-old freshman at Mount Edgecumbe High School, a state-run boarding school in Sitka, Alaska.
Her answers gave her passage into a room stocked full of dresses — a bounty that Kayla, or most students, in rural Alaska have never seen.
The dresses were brought to the school by the Seattle-based Prom Princess program, which brings the prom experience to Mount Edgecumbe, where many students don't have the resources or the help from their far-off families to get party dresses, tuxedos, and makeup for their big night.
"All of these people are here helping them (the students) out and doing all this stuff, and suddenly they realize they're a lot more important than they ever thought they were," said Ivy Lanthier, project director for the school's dorms. "That's the big thing."
In its fifth year of helping students at the school, the program arranges for donations of the dresses, discounted tuxes, and hair and makeup artists.
Mount Edgecumbe, which sits in the shadow of a dormant volcano, is the only state-run boarding school in Alaska. It has nearly 400 students, and about 80 percent this year are Alaska Native. Many, like Kayla, hail from small communities well off the state's limited road system. Many schools in these rural villages don't have proms, and ones that do aren't at Mount Edgecumbe's level.
---