Facebook Home: Teens won't want it dominating their Android smart phone
Facebook Home, Mark Zuckerberg's super app for Google's Android OS unveiled yesterday, despite its name, won't be much of a home for teens. They busy themselves by switching from app to app and won't appreciate how Facebook Home comands their smart phone.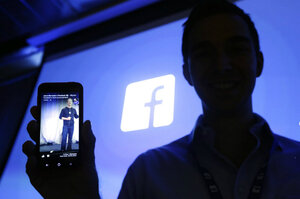 Marcio Jose Sanchez
Although as of this writing, a search of Google News turned up nearly 2,000 news stories about it, the new uber app for Android phones that Facebook unveiled today isn't really big news for families. I know I just wrote about the teen mobile trend, but I sincerely doubt teens will want their use of the mobile platform dominated by any single service. Their mobile socializing is nothing if not fluid and unfocused, and focus is definitely what Facebook is aiming for with this development.
"A total Facebook-ification of your phone" is what CNET called the app in its homepage headline today. Despite all the rumors leading up to Facebook's announcement, Facebook Home "isn't a phone, it isn't an operating system, and it isn't a rebuilt version of Google's Android OS," CNET reports. It's a meta-app that, for now, can be downloaded on an Android phone; eventually there will be a "Facebook phone" that will just be an Android phone that comes with it pre-loaded. "Home" adds another layer to the smartphone experience by turning all the Facebook apps (the regular one, Messenger, Poke, etc.) into a single app that takes over the home screen so that Facebook is the main event and all other apps recede into the background.
---