A teen's immigration reform: Seeing amnesty as long shot, he self deports
An undocumented San Diego teen who graduated from an elite prep school saw uncertainty in his future and no sure thing in immigration reform and amnesty – so he did 'the right thing' and made the decision to self deport.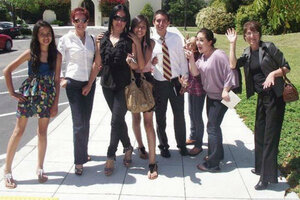 Courtesy Sergio Santamaria
At 18, Sergio Santamaría was in a place most American high school seniors dream of. Thanks to a financial need-based scholarship, he'd gotten an excellent education from an elite prep school, The Bishop's School in La Jolla, Calif. He'd been on the honor roll, served as a student ambassador tour guide, and had also been accepted to two well-ranked colleges: The George Washington University, in Washington, D.C., and Fordham University, in New York City.
But Mr. Santamaría had been brought into the United States from Mexico as a baby. He'd been undocumented his entire life, and the vulnerability of an uncertain future weighed heavily on him.
Late in the evening on his graduation day, May 31, 2011, he took an irreversible step. He self-deported.
Santamaría's experience speaks to some of the various moral and legal issues Congress is now grappling with as it considers a possible legalization for 11 million undocumented immigrants.
---