Jacob, Sophia top last year's baby names; King and Messiah make biggest jump
Last year's most popular baby names, according to the Social Security Administration, were Jacob and Sophia. Arya, first name of a 'Game of Thrones' character, showed the largest increase for girl's names.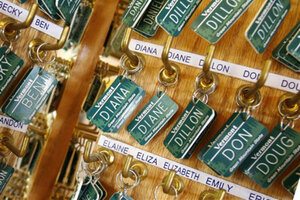 (AP Photo/Toby Talbot)
Talk about high expectations for a newborn: King and Messiah are among the fastest-rising baby names for American boys.
They're just a little behind Major, the boy's name that jumped the most spots on the Social Security Administration's annual list of popular baby names.
Jacob is the most popular for boys — again — and Sophia is the top name for girls, according to the list released Thursday.
It was Jacob's 14th straight year at the top. Next were Mason, Ethan, Noah and William. Liam cracked the top 10 for the first time, coming in at No. 6. Daniel slipped out of the top 10 for the first time since 1998, to No. 11.
It was Sophia's second year in a row at the top for girls. Next were Emma, Isabella, Olivia and Ava.
But what about those rising boys' names?
Typically, says Laura Wattenberg, author of "The Baby Name Wizard" and founder of Babynamewizard.com, "You don't get a lot of Messiahs. You can have a lot more Majors."
"I have no doubt Major's rising popularity as a boy's name is in tribute to the brave members of the US military, and maybe we'll see more boys named General in the future," said acting Social Security Commissioner Carolyn W. Colvin.
Wattenberg said Americans have long given their children "aggrandizing names." She noted that Noble and General were on the list of popular boys' names for much of the 20th century, though neither ever cracked the top 100.
"We've pretty much run out of presidential names, all the Jeffersons and Jacksons and Madisons, so we're moving on to the aristocracy, I guess, or to the military."
---