Travels with mother: In search of the world
Anne D'Innocenzio has traveled with her mother since she was a little girl. But at 80-something, her mother, ever fearless, is beginning to slow and told her that her traveling days are coming to an end.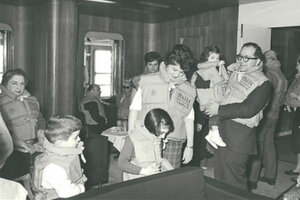 AP
When I was young, I learned a lot about travel from my mother. She taught me how and what to pack. She taught me to keep a travel diary to record my memories. And most importantly, she taught me how to power-sightsee.
"You never know when you'll be back," my mother used to say as she and my dad pushed my sister, brother, and me to yet another art museum, Gothic church, or 18th-century cemetery.
Decades later, my mother and I still travel together, but now that she's in her mid-80s, our roles have changed. She's hearing-impaired, and often uses a cane for balance, while I bring a notepad and pen to write down tour highlights for her. I also handle hotel accommodations, hail the cabs and make sure a wheelchair is waiting at the airport to take her to the gate.
Some might think of traveling with an elderly parent as a burden, but my mom is invaluable to me. She's still vibrant and fiercely holds onto her love of travel. She's a globe-trotter and a wealth of knowledge — my personal version of a Frommer's app. I'm a journalist, perpetually time-strapped as I race to meet the next deadline, so I also depend on her to help me with the research for our trips. She often highlights hot spots weeks in advance.
---