Rosie Pope, the Martha Stewart of maternity, helps navigate baby gear
As Rachel Ray is to cooking and Rachel Zoe is to style, Rosie Pope hopes to be to motherhood. And, as the overwhelmed faces on the moms-to-be at the New York Baby Show this past weekend seem to point out, the industry is asking for a guru.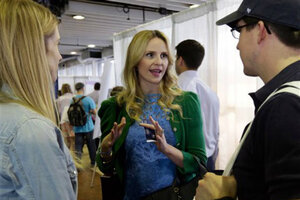 Associated Press, Richard Drew
Amid the purveyors of belly casts and placenta pills, sonogram art and cord banks at a recent baby gear extravaganza stood a smiling Rosie Pope, pregnancy advice guru, mommy concierge to the rich and, with any luck, the Martha Stewart of maternity.
"There's Rachael Ray for cooking and Rachel Zoe for style, but who in motherhood? That's my dream," said the affable mom of three as she signed copies of her pregnancy guide, "Mommy IQ," showed off her maternity clothing line and chatted up fans Saturday at the New York Baby Show.
Making sense of maternity and baby gear these days isn't easy, so Pope may just get her shot. More than a few moms-to-be were befuddled as they walked the crowded show floor, some with exhausted husbands in tow, at a cavernous pier just off the West Side Highway.
There's the "Tortle," for example. It's an infant hat with a soft wedge built in to battle flat head syndrome. And there's Clean Bee Baby, an eco-friendly cleaning service for strollers and car seats.
The sellers of the Woolino were there. It's a four-season wearable sleep bag for baby in Australian merino wool that promises to regulate body temperature, wick away moisture and last until age 2 in place of those dangerous things called blankets.
There were also numerous reinventions of the wearable baby carrier, bright and cheery seats and rides of all kinds, including one that looks like an actual car, and all-natural everything, from squeezable baby fruit to Kinder by Nature herbal wipes, loaded with certified organic aloe vera, tea tree and ylang ylang extracts.
---