Teachers experience rewards, challenges in their first year
Teachers who are taking on the job for the first time admit that the job can be overwhelming, but many are up for the challenge.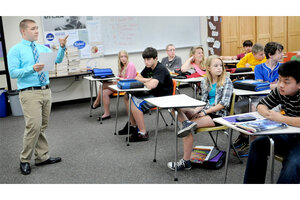 Dan Reiland/Eau Claire Leader-Telegram/AP
Social studies teacher Sam Van Hefty wanted his eighth-grade students to understand just how outnumbered the Americans were at the outset of the Revolutionary War.
Searching for innovative lesson plans online, the 24-year-old first-year teacher came across one that included dodgeball.
So on the tennis courts outside DeLong Middle School, Van Hefty lined up most of his students on one team as British soldiers and the rest on another team as American soldiers.
As the dodgeball game progressed, Van Hefty brought more players over to the American team, and tilted the game to their advantage in other ways, illustrating the different ways the war turned in America's favor.
"The Revolutionary War dodgeball lesson – that was awesome. It was just a blast," Van Hefty said, smiling after class recently.
Looking back over the school year as it drew to an end, Van Hefty said he had a lot of good days this past school year and some challenging days too.
Being a first-year teacher has always been a struggle, local school officials said. First-year teachers must adapt to a new building and new co-workers and must begin taking all they've learned in college and putting it into lesson plans for real students in real classrooms.
Meanwhile, in the two years since most of Wisconsin's public workers lost their collective bargaining rights – the controversial initiative championed by Gov. Scott Walker – many teachers across the state have retired. Subsequently, more first-year teachers have stepped into Wisconsin classrooms, the Leader-Telegram reported.
For first-year teachers there are supports in place, said DeLong Middle School principal Tim O'Reilly. They're assigned a mentor, and, like other teachers, they work in teams, he said.
---