Kate Middleton and the royal baby's gender: Why some don't want to know
Kate Middleton and husband Prince William are not alone in not wanting to know the gender of their first child. They're part of a group of expectant parents choosing the same thing – some have dubbed themselves Team Green.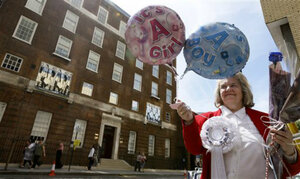 AP/Kirsty Wigglesworth
Kate Middleton and husband Prince William have some non-royal company in choosing not to learn whether their first child is boy or girl.
Heather Crothall finds herself happily in that camp, too, and there's even a name for it at the mom site BabyCenter.com: Team Green.
"We would rather be surprised," said Crothall. Due Oct. 1 with her first child, she said her husband's into the mystery, too, though his resolve is cracking just a bit.
"For my part, I think it's a fantastic motivation for getting through delivery," she said by telephone from Windsor, Ontario, just across the border from Detroit.
While mega-fanfare awaits the gender reveal of the latest British royal, Crothall is looking forward to her obstetrician's traditional poem when he delivers her good news at birth.
Meantime, she and her husband are dealing with some serious pushback from some loved ones.
"I wasn't expecting nearly as many people to be polarized as much as they are by it. Why are you being selfish is really the biggest question. It's seen as a decision that somehow we're withholding critical information. They've made it that we're being difficult," Crothall said.
Not everybody, mind you, but even strangers haven't been shy about expressing their puzzlement.
Christine Ward in Sacramento, California, landed in an unusual pickle when she wanted to know the gender of her first but her husband preferred to remain in the dark.
---