Adoption: State legislators want to unseal birth certificates for adoptees
Adoptees in some states cannot access their birth certificates despite their need to know biological family medical history and their desire to understand where they came from. But more and more legislators are working to unseal these documents for adoptees.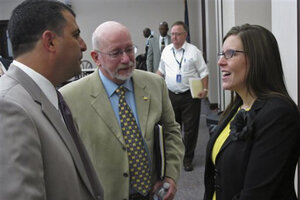 Marc Levy/AP Photo
Maura Duffy spent a day in Chicago last September with her mother: A walk along Lake Michigan, shared meals, a boat tour highlighting Second City architecture.
But this was no typical mother-daughter outing. It was the first time the two women had ever met.
Since a handful of states, including Illinois, have unsealed birth certificates, thousands of adoptees have claimed them and learned about their beginnings. The 35-year-old Duffy, adopted at birth, is among 8,800 Illinois residents since 2010 to do so.
Not everyone who gets the document goes on a search. But for many, it's led to heart-rending reunions.
"I finally got to see and meet someone who looked exactly like me," said Duffy, a marketing professional. "It's a very kind of emotional, strange thing that you grow up your whole life and don't ever know anything about your background. And it's the first chapter of your life, that birth certificate."
Obtaining a birth certificate – something most people can do without much thought – often is a visceral, as much as legal, quest for an adoptee.
"The things that people take for granted are enormous, life-changing moments" for adoptees, said Rep. Sara Feigenholtz, a Chicago Democrat and adoptee who sponsored the Illinois law and still breaks down when discussing it.
Feigenholtz, who met her birth mother years ago, worked for more than a decade to open birth certificates in Illinois, which like nearly every other state had sealed such records from the 1940s through the 1980s. There are several reasons adoptees want access to those records, including learning medical histories crucial to determining health risks. Many adoptees believe they have a right to such a personal, intimate record.
Illinois is one of 11 states to have open birth certificates and one of nine to have unsealed them since 1999, according to the American Adoption Congress. And because of its size, the Prairie State has seen more adoptees get those papers than most. Still, the 8,800 is only 2.5 percent of the 350,000 Illinois adoptees' records that were sealed beginning in 1946.
---