Amber alert on phone wakes California up for first time
Amber Alert on phone: For the first time, the state of California residents received a high-pitched alert on their phone containing information about a missing child. The Amber Alert on phone also alerted Californians to the car the suspected abductor was driving.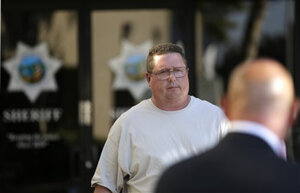 AP Photo/Gregory Bull
An Amber Alert Monday night alerted freeway motorists, television viewers, and, for the first time in California, cellphone subscribers to a blue Nissan Versa with California license plates that a suspected abductor was believed to be driving.
The Amber Alert system, which was introduced in December, sends messages automatically, based on the phone's location.
The alert is sent to phones within proximity of the emergency area, not to all phones registered to a location, California Highway Patrol spokesperson Fran Clader told Web Pro News.
"If you're from Texas and that's where your phone number is based and you're traveling in California at the time of the Amber Alert, you'll receive the text message about the Amber Alert in California on your Texas-based phone," she said.
Cellphone providers who participate in the service include AT&T, Cellcom, Cricket, Sprint, Nextel, T-Mobile, US Cellular, Verizon Wireless and Bluegrass Cellular, Web Pro News reports.
James Lee DiMaggio, whose car the Amber Alert was issued about is now a suspect in the death of Christina Anderson, the abduction of her 16-year-old daughter and the possible death or abduction of her 8-year old son.
Anderson's body was found in DiMaggio's burning home east of San Diego, near the dead body of a child who may be Ethan Anderson.
Brett Anderson, who flew from Tennessee to San Diego on Tuesday, pleaded with DiMaggio, 40, to release his daughter, Hannah, saying, "You've taken everything else."
"Jim, I can't fathom what you were thinking. The damage is done," he said outside San Diego County Sheriff's Department headquarters after being interviewed by investigators.
---