Mexican teachers scramble to correct flawed textbooks
In weeks leading up to the first day of school, Mexican teachers pored through millions of textbooks to correct spelling, punctuation, and factual errors.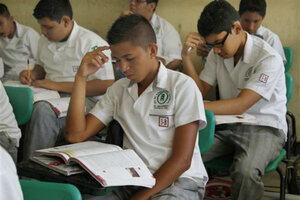 AP Photo/Marco Ugarte
Mexican children trooped back into their classrooms Monday, and they were getting a quick lesson: Not just school kids make mistakes.
Their brand new textbooks have the kinds of errors that they are supposed to be learning not to make: words written with a "c'' instead of an "s," too many commas, not enough accents and at least one city located in the wrong state.
The foul-up is becoming a national embarrassment in the midst of a planned government overhaul of Mexico's much criticized school system. Teachers are being given a list of the errors so they can try to manually correct at least 117 mistakes that the Education Department has acknowledged it found only after 235 million elementary textbooks were being printed.
"It's unfortunate these things happen with the children's textbooks," said Consuelo Mendoza, president of the national parent teachers association. "We are talking about the education of millions of children."
Education Secretary Emilio Chuayffet has called the errors "unforgivable," but he blames Mexico's previous administration for the stumble. He says he was faced with the predicament of choosing between stopping the printing of flawed textbooks so they could be corrected and making sure the country's 26 million school children had textbooks at the start of classes.
Earlier this month, Chuayffet pledged to investigate to find out who was responsible. He also gave the Mexican Academy of Language the task of reviewing textbooks so future editions won't have such errors.
"How are we going to nurture minds with grammatical mistakes?" he said when he signed an agreement with the academy.
While Chuayffet has called the slipups inexcusable, his department has been less than transparent about the problem, failing to release the list of the errors to the public or even to the language academy members.
---