Royal baby alert: Sweden's Princess Madeleine expecting a child
Gear up the royal baby watch, Sweden's Princess Madeleine announces she is expecting a baby, just three months after her June wedding to American banker Christopher O'Neill.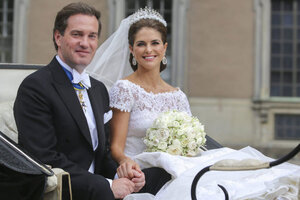 AP Photo/Soren Andersson
Another royal baby is on the way, according to Sweden's Royal Palace, which announced today that Princess Madeleine and her husband, New York banker Christopher O'Neill, are expecting their first child in March.
Madeleine, the younger sister of Crown Princess Victoria, is third in line to the Swedish throne.
She and Mr. O'Neill were married in Stockholm in June, following an eight-month engagement.
O'Neill was born in London and holds dual American and British citizenship, according to a CV released by the royal palace. He studied at a boarding school in St. Gallen, Switzerland, and holds a bachelor's degree in international relations from Boston University and a master's degree from Columbia Business School in New York.
O'Neill now works as a partner and head of research at Noster Capital, a hedge fund with offices in London and New York. His interests include Alpine skiing, tennis, golf, music, literature and Chelsea Football Club in London, the palace said.
---