College costs: High-sticker-price schools may cost less in the end
College costs can be deceptive: High priced prestigious schools with big endowments often send students into the world with less college debt than less prestigious schools, says new US News & World Report college survey.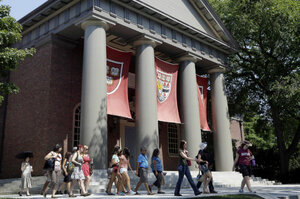 AP Photo/Elise Amendola, File
Don't let the big price tags nix an application to Harvard or Yale. The average student receiving financial aid on those campuses paid about a quarter of the public sticker price and most graduates leave their ivy-covered quads with smaller debts than peers who attended less prestigious schools.
It's not that unusual, according to statistics released Tuesday from U.S. News & World Report. In fact, some of the schools sending graduates out into the world with huge debts are campuses that aren't the bold-faced names that top the typical best-of lists. Many of the best colleges in the country are relative steals for the lucky few who earn admission.
"Folks look at the sticker price and assume that's what everyone is paying. The truth is that the more elite schools have more resources," said Amy Laitinen, a former White House education adviser now at the New America Foundation. "They have huge endowments that they often use to help lower-income and middle-income students – and even upper-income students."
Look at Princeton University, the top school in the magazine's annual ratings. Among students who borrowed to pay for their Ivy League education, they left the New Jersey campus with $5,096 in debt for four years – the lowest sum for alumni leaving a national university with debts. Among the 3-in-5 students who received need-based aid at Princeton, they were billed less than a third of the advertised price tag.
---