Autism, learning disabilities services grow on college campuses
Autism and learning disabilities no longer prevent students from attending college as schools offer more accommodations and private organizations provide additional support; however, cost of services still represent a barrier for many students.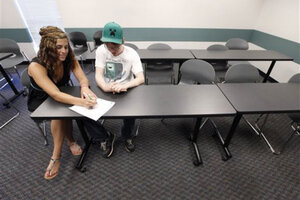 AP Photo/Paul Sancya
As he sits in class at Eastern Michigan University, a flood of images streams from Tony Saylor's vibrant, creative mind down through his pen and onto paper.
Often, his doodling features the 9-year-old character Viper Girl who battles monsters with her pet fox Logan. Saylor, 22, has even self-published three books of their adventures.
Saylor's professors didn't exactly welcome his constant drawing, but once he explained it was the only way he could hope to process their lectures – and even to stay awake – most let him continue.
For college students with autism and other learning disabilities, this is the kind of balancing act that takes place every day – accommodating a disability while also pushing beyond it toward normalcy and a degree, which is increasingly essential for finding a meaningful career.
But Saylor and a growing number like him are giving it a shot. Students who would once have languished at home, or in menial jobs, or struggled unsuccessfully in college, are finding a new range of options for support services to help.
"I knew I didn't want to work in the fast food industry my whole life," Saylor said, sitting at the kitchen table of his family's home in this Detroit suburb, where he lives while commuting to EMU. His mother, Angela Saylor, says a 3-year-old program at EMU that supports autistic students – a graduate student who works with the program attends all his classes with him – has been a godsend.
Such programs within traditional universities, offering supplemental support for additional tuition, are sprouting up around the country (Nova Southeastern University in Florida is among the schools starting one this fall). "The K&W Guide to College Programs for Students With Learning Disabilities or AD/HD" has grown steadily since its precursor was first published in 1991, and now lists 362 programs, the majority of them now comprehensive services.
---