Parenting: Here we go, a Monitor blog for parents
(Read article summary)
What an international daily newspaper can contribute to parenting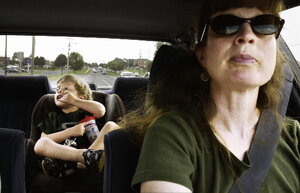 Andy Nelson/Staff/File
As we launched Modern Parenthood, there was great discussion about what the Monitor – an international daily online newspaper – could bring to the parenting discussion.
We thought a lot about what we – as parents who want to raise good global citizens – are interested in ourselves. We care about the world and want our kids to, too, in everything from the way they treat each other, us, and the larger society they live in, to the ways they use technology, from video games and social media to Internet research for homework.
We have been as fascinated by the Tiger Mother as we were her ideological mothering opposite, the francophile Bébé mom. We have pondered David Brooks' "The Social Animal," an amazing psychological odyssey through the behaviorial DNA of a hypothetical family's successes and failures, morals and motives. We follow educational debates (the merits of testing, homework, and teacher performance), we think a lot about about the coarsening of our world, from the media's sexualization of children to real and portrayed violence. We think about technology and want to co-opt its better nature for the benefit of our kids and find ways to solve its worst problems.
---