Mother's Day in Minnesota: bass fishing vs. brunch
(Read article summary)
Minnesota's moral dilemma: Opening day of fishing season falls on Mother's Day weekend. Will government save family unity and change the calendar?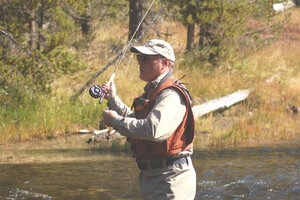 Amelia Newcomb/Staff
When I was growing up in northern Minnesota, only two holidays existed on the calendar: opening day of deer hunting season and opening day of fishing. Christmas was the time you received equipment to participate in the other two.
So it is perhaps not surprising that Minnesota is in a bit of a snit over a calendar clash involving one of those sacrosanct days. It turns out that the opening day of fishing season this year falls on Mother's Day. What's a good angler to do – bring home tulips or a stringer of walleye?
It's a moral dilemma big enough to challenge any Lutheran minister. It's also one that has been taken up by another authority, the state legislature.
The Minnesota House recently voted to move opening day of fishing up one week, from May 12 to May 5, partly in the hope of preserving family unity. The Senate is expected to take up the issue soon.
In truth, the House's move wasn't intended solely to decouple opening day of fishing from Mother's Day. That was one of the benefits. The other reason was that the state has had such a warm winter that walleye spawning, after which fishing starts, ended early this year, so state lawmakers thought they would give anglers an extra week on the water.
---