Are chinplants the new breast implants? Wanna look like Jennifer Anniston?
(Read article summary)
What's a mother to do in an era when her teen thinks even a chin can't be too perfect? Jennifer Anniston wannabes and dissatisfied teens drive the craze for chinplants. Demand for the new plastic surgery for a strong jawline is rising faster than Botox, liposuction, and breast implants.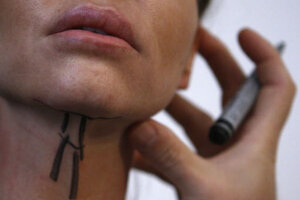 Bernadett Szabo/Reuters
For those parents struggling to convince their daughters that – social pressures and teen breast implant trends aside – beauty comes from within, here's another helpful news tidbit from the American Society of Plastic Surgeons:
Chin implants, or "chinplants," are the fastest growing plastic surgery procedures in the nation, with a 71 percent increase in chin implants in 2011. That's a quicker growth than that of breast augmentation, Botox, and liposuction combined, the group announced in a press release. There are now some 20,680 chin implant procedures (or "chin augmentation," as it's known in the plastic surgery world) performed in the US annually.
Great.
Because I'm just psyched that there will be another body part my one-year-old daughter will be able to worry about some day – another aspect of her appearance to stress over, to feel bad about, to compare to some wacky "ideal" that's really created in Photoshop and surgery rooms.
Sure, for the moment, the biggest increase in chin implant surgery is among women over 40.
---