Earth Day and every day gardening with children
(Read article summary)
Earth Day – or any day – is the peak time to be gardening with children, sowing the seeds of a lifelong habit.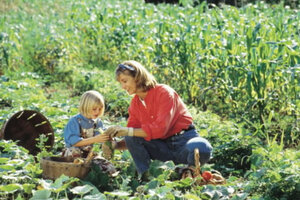 Courtesy of Family Features
With Earth Day upon us, not to mention the warmer and longer spring days, many of us have been heading into our gardens. Around much of the Northern Hemisphere, this is the peak time to sow some seeds into the ground, as well as plant a lifelong gardening habit into the children in our lives.
Gardening helps families spend time together outdoors, take pride in growing our own food, and connect to others who have lived on the land before us. Even though gardening offers a bounty of simple wonder, beauty and fun for even the smallest children, it doesn't hurt to employ a few methods for getting and keeping them especially engaged.
Here are some simple ways to maximize your child's interest in the garden.
Are you a Helicopter Parent? Take our quiz!
Let children select some plants they want to grow.
---