Fenway Park turns 100. Go Orioles!
(Read article summary)
Our daughter, we know, will one day revel in the story of the day Fenway Park turned 100. It will be hard for us. But maybe baseball, like parenthood, is bigger than team rivalry. Maybe. Meanwhile, go Orioles!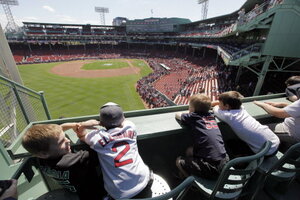 AP
Fenway Park turns 100 today. This is big news for the folks here in Massachusetts. And even as a transplant and a baseball outsider (oh, how I love thee, my Orioles), I appreciate the beautiful fusion of history and random numerical calculations that is wrapped up, so baseball-like, in this Red Sox centennial.
I imagine that one day I will tell my daughter that she was around when Fenway Park hit its big birthday. And she will be excited about that.
Because, and this is really hard for me to admit, I recognize that our daughter – our dear, sweet, innocent daughter – might grow up to be a Red Sox fan. Fenway Park might be her park.
I will still love her. Motherhood is all about forgiveness.
It has taken a while for us to reach this level of acceptance. (The first step, you know.)
When we were contemplating the move north from our hometown of Baltimore, my husband insisted that no way, no how, would any child of his grow up rooting for anyone other than our O's.
---