Mel Gibson: What I'll tell my Jewish son about anti-semitic remarks
(Read article summary)
Mel Gibson is involved in another dustup over alleged anti-semitic remarks, and a Jewish mom contemplates how she'll talk to her son about hatred.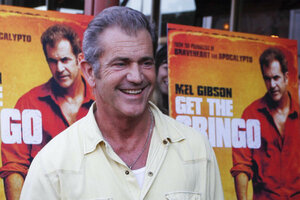 AP
"You Jewish son of a *****," a boy taunted my brother on the school bus one day as I sat nearby.
I was 14, my brother, Kevin, 16. The comment made us seethe, but we let it pass. Then a few weeks later, my family, the only Jewish one in our neighborhood and rural Ohio school, woke up to find swastikas etched in wax on our home windows and cars.
This time, my family did not let it pass. My parents contacted a deputy sheriff, who was friends with my brother through Boy Scouts. The deputy sheriff went to the doors of the boys we thought were responsible. None admitted to the anti-Semitic act. My family could have told our school, but did not. This was in the late 1970s before it was popular for schools and parents to directly confront anti-Semitism, racism, and other acts of intolerance.
Now a parent, I read about Mel Gibson's latest insensitive comment about Jews and wonder how to help my son cope with anti-Semitism and prejudice better than I did during my childhood. Mr. Gibson, according to several news reports, quipped, "Funny, you don't look Jewish," in response to a script co-writer's comment that he was Jewish. Gibson also is in hot water with another Jewish screenwriter for an angry rant that allegedly included anti-Semitic remarks.
---