Etan Patz: His disappearance started the era of parent anxiety
(Read article summary)
Etan Patz disappeared in 1979 and so did a nation's innocence. He vanished in broad daylight in Manhattan, sparking an era of parent anxiety – Amber alerts, milk carton photos – and sheltered American children.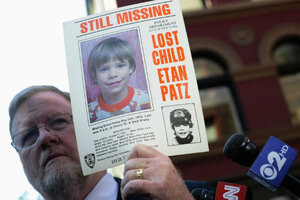 ddd
They never knew his name or saw that angelic-looking face. But their parents would never forget it.
For some, their caution was simply a result of what they read in news reports. Others, including Jim Stratton, had an immediate and very personal reason to be afraid.
"It sent a chill through everybody," said Mr. Stratton, whose son was in the same neighborhood play group as Etan Patz, the 6-year-old who never boarded his school bus on May 25, 1979. "You could not leave your child for a minute. Anywhere. It was like a dark cloud had come over the neighborhood."
Before Etan disappeared, the notion that a child could be abducted right off the street, in broad daylight, was not familiar. Children roamed their hometowns freely, unencumbered by fear. They could walk to school and the bus stop and just about anywhere they pleased all by themselves. That all changed after Etan set off for school in his favorite pilot's cap and corduroy jacket and did not return.
A new age of paranoia had grabbed hold of the national psyche. And so many years later, that sense of fear has yet to fully release its grip.
"In many ways, it was the end of an era of innocence," said Ernie Allen, president of the National Center for Exploited and Missing Children. "And parents suddenly became much more protective and much more hovering over their children."
---