Etan Patz and other missing children have mom's radar pinging
(Read article summary)
Etan Patz, who is still being searched for 33 years after he was kidnapped, and other cases of missing children have one mom struggling with her stranger danger radar.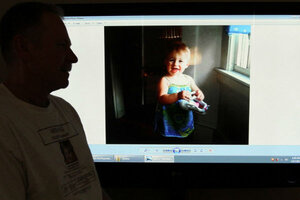 AP
Missing children are a heartwrenching staple of tabloids and cable news; The constant attention to what is, statistically, a rarity can really give a workout to a mother's stranger-danger radar. This past week, authorities were searching for a two-year-old who vanished at a Rockport, Mass. beach, and a six-year-old girl in Tucson who went missing from her bedroom; and in New York City they were tearing up a basement for clues to a six-year-old boy, Etan Patz, who disappeared 33 years ago. It all brings back a memory for mom Amy MacKinnon.
The drinks wobbled in their cardboard tray, sloshing my hand, sluicing down my forearm. My eldest walked beside me, intent on balancing an equally fragile basket overflowing with fried clams and hot dogs.
While her focus was on lunch, mine was on my two younger children biking just ahead along the crowded esplanade: my daughter a flash of pink metal and ribbons, her older brother on his new bike, something more befitting a boy of 10. They were scouting a picnic spot with a view of Boston Harbor and the buzz of the airport beyond. It was a perfect summer day, dazzling blue skies, and the park was full.
---