Arbor Day: 5 reasons to plant the family tree
(Read article summary)
Arbor Day: The family tree is good for the planet – 5 reasons to plant one, or more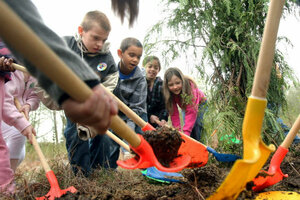 AP
Arbor Day is celebrated annually, on the last Friday in April. Some states however, do celebrate the day on different dates, according to the Arbor Day Foundation, to coincide with the best spring "planting" time.
There are so many reasons it is important to plant, cherish, and maintain trees in your life, in your yard, community, state, and country. Join us and learn our 5 Top Reasons.
What are yours?!
1. Social Reasons – Trees make us happy! Trees are a strong support during hot summer days, and on windy or rainy days as well. Trees provide shade for us, cool our homes with their branches and are often planted to mark a special event which lets us remember year after year, that special day, event or person. Trees bring us peace, make us feel strong, and help make our communities more livable places.
---