Charles Taylor: An Amerian mom's relief at war crimes conviction
(Read article summary)
Charles Taylor: His conviction of war crimes in Sierra Leone is a moment for pause for an American mom to think about the world between diapers and carpools and playdates.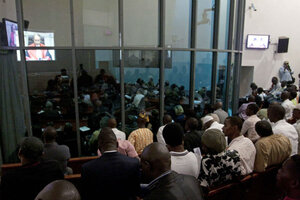 AP
In case you missed the news – or maybe just glanced over it, since that's what happens now and then with events related to Africa – an international court yesterday convicted Liberian president Charles Taylor of abetting a horrifying array of war crimes, from murders and mutilations to rape and forcing children to fight as soldiers.
The accusations stemmed from an 11-year civil war in Sierra Leone, a small country in West Africa that neighbors Taylor's Liberia. This was a particularly haunting, gruesome conflict, with many the worst episodes of violence revolving around kids.
There were children who were drugged and ordered to murder their families. Babies ripped out of mothers' arms. Children beheaded in front of parents.
In Photos: Around the World in 16 BabiesThese stories still haunted the continent when I worked as a foreign correspondent there, well after the war in Sierra Leone had ended. I mostly tried to squeeze them out of my mind - they were too painful, even before I had a baby of my own. And when I had to write about child soldiers elsewhere – I spent some time in the eastern part of the Democratic Republic of Congo, which is the focus of other international court child soldier prosecutions – I tried as much as I could to detach.
---