Screen-Free Week: Turn off that TV and celebrate – not suffer
(Read article summary)
Screen-Free Week is celebrated – not suffered – April 30 to May 6. Studies show that too much screen time, whether in front of the T.V. or an iPad or computer can hurt development and stifle creativity. So unplug and give your kids the gift of a Screen-Free Week.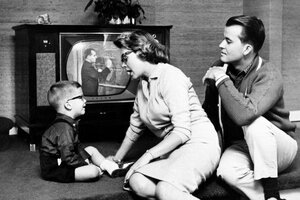 AP File
Have you heard of "screen time"? It's a term describing the time we spend in front of screens, large and small, consuming media on a daily basis.
Television, computers, video games, iPhones, iPads: Many screens compete for our attention, and we're spending more time with them than ever.
Because of concerns about this trend, experts encourage parents to keep their children's time with all these screens to a minimum. For example, the American Academy of Pediatrics recommends no screen time for children under the age of two, and a maximum of two hours daily for preschool children.
But it's easy to make screen time a family habit. In the typical US home, TV is a focal point for relaxation and entertainment – constantly on, as long as someone is at home and awake.
Unfortunately, for our kids, too much screen time can harm their development. Too much media and too little time on other developmentally important tasks can lead to poor school performance, childhood obesity, and other problems. New research suggests that even background television – when the TV is on without really being watched – can harm younger children by interrupting their mental tasks.
---