Baby names: A new hospital service
(Read article summary)
Baby names are the latest hospital service at the Central Baptist Hospital in Lexington, Kentucky. The medical center boats an app and website that offer suggestions and virtual baby blankets for parents struggling over monikers for their babies-to-be.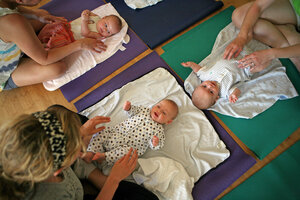 Melanie Stetson Freeman
We read with interest a report today coming out of Lexington, Kentucky, where the Central Baptist Hospital is apparently helping out parents who just can't make up their minds about a name for their new bundle of joy.
Baby names, it sees, are the latest hospital service here; the medical center is offering a mobile app and a website that lets parents search through top baby names and sort through various categories of inspiration, such as athletes (think Metta World Peace), Disney characters (not even going there), and country music stars.
If that's not enough, a user can create virtual "baby blankets" to see how different name combinations might look on monogrammed baby gear. (You can change the colors, too.) Then, you can tweet, pin or post the name idea on Facebook, so everyone you know (and some you don't) can tell you about that obnoxious girl in second grade who had the very same name and how you simply can't name your child that because an ex boyfriend from high school was also named Jacob, or whatever, and so on and so on....
---