May Day traditions a good excuse to celebrate with family
(Read article summary)
May Day is a historically joyful day, with traditions that include spirited dancing, singing and the proliferation of colorful decorations, making it the perfect reason to gather together family and friends to celebrate the coming of spring.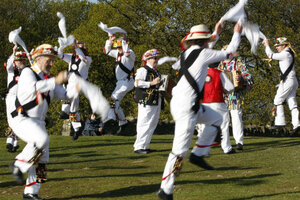 Darren Staples / Reuters
May Day, or Beltane, comes at the exact mid-point of Spring and, as such, calls for celebration. The first maypoles were pine trees, which were carried in processions to Ancient Roman temples to honor the goddess Flora. In Pagan Medieval Europe — especially Germany, England, the Slavic countries and parts of Scandinavia — a tree would be cut down and brought from the woods into the village by a procession at sunrise, while horns and flutes played. The tree, a maypole, would be festooned with ribbons, garlands, flowers, wreaths, and other decorations to celebrate Beltane.
I've had the good fortune to take part in a few Maypole dances, with family and community groups. The tradition remains a special and delightful one that honors the season in a way that takes participants back to a more gentle and pastoral time.
You'll need:
A tall tree branch or pole and something to anchor it. (Volleyball, tetherball, flag, umbrella and wooden poles work. 8-10 ft. is the optimal height.)
An even number of ribbons, at least one per dancer, in various colors, each 1½ times the length of the pole
Hammer and nails
Shovel, optional
Nail one end of each ribbon streamer to the top of the pole.
Anchor the pole into a pre-made umbrella or other stand, or dig a deep hole in the ground and make sure your pole is anchored properly in it.
Your maypole is ready for the dance.
The Roman Floralia festivals lasted up to a week and featured games, theatrical presentations, and floral-wreath adornments. During the early Floralias animals were set free and beans were scattered to encourage fertility. At different times in history, Floralias and May Day celebrations were bawdy affairs.
---