Screen-Free Week: Parents this includes you, and your iPads, too
(Read article summary)
Screen-Free Week runs through May 6, and while it may be difficult, parents should not exempt themselves from the celebration. So, turn off those iPads, stash the mobile phones, and have a week of screen-free powered-down fun. We'll make an exception for Modern Parenthood.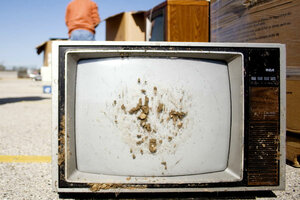 John Ehlke/The Daily News/AP
Hi Parents! Today marks the second day of "Screen-Free Week," an annual event where child development experts and advocates encourage you to turn off the television, stash away the iPad, hide the Baby Einstein CDs and generally keep your little ones away from electronic interaction.
I'm a big fan of this. Which is rich, really, since you're probably reading this on, well, a screen.
And because sometimes, just to get these articles written, I will toss "Baby M" my iPhone (which she loves loves loves) so that she becomes engrossed in scrolling and tapping and just stops trying to switch off my computer, which is a new trick of hers, and one that says something, really, about that whole working-at-home thing.
She even posted something on Facebook the other day – a smattering of letters, which conveniently looked like a swear word – while I was doing an interview. An interview about the dangers of early electronic media exposure. Totally busted. Official Bad Mommy.
Anyhow, this is all to say I love screen-free week. I love it even though I know that for a lot of families, it's really hard to follow.
---