Teenage nose piercing, Jewish tradition create parenting dilemma
(Read article summary)
Adornment or mutilation: The teenage wish for a nose piercing has one mother caught in a parenting dilemma as she and her husband try to balance the desires of their 16-year-old daughter with the guidelines of their Jewish traditions – and, maybe a little squeamishness.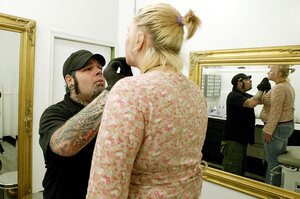 AP
The day Anna got her nose pierced, I spent the morning reading up on body piercing with regard to Jewish law. My daughter was about to get a small hole on the left side of her sweet nose, and I wanted to understand if she was adorning her face or mutilating it.
The rabbis historically have been divided on the issue of body piercing. Some sages liken piercing, even of the earlobes, to inflicting a wound on a body that belongs first and foremost to G-d. Others see it as an act of beauty because one can prettify the body with jewelry. Almost all of the sources I read were uncomfortable about piercings that drew blood.
Ken was unequivocal on the subject. He told me that, "if you had had a nose piercing when we met, we wouldn't be having this conversation today." OK, so obviously Dad had to be convinced that a small stud in the nose was in vogue rather than disgusting.
As for me, I bought Anna's argument that piercing her nose has been the only notable rebellious thing she's wanted to do as a teenager. And she'd been lobbying for two years.
"I have the perfect nose for it," was one of her key points.
"This is your face," Ken shot back.
I was no help to the home team when I said, "I'd pierce my nose with Anna if it didn't look so ridiculous on a middle-aged mom." Besides, I grew up with Latina cousins whose ears were pierced at birth. My Latina mother wanted my ears pierced when I was a baby, but was met with heavy (read: hysterical) opposition from her American mother-in-law.
---