Text messaging apps: solution to texting while driving accidents?
(Read article summary)
Texting while driving is continuously cited as a reason behind many deadly accidents. Mobile text messaging apps that alert parents to text messages sent on the road may be a part of a solution.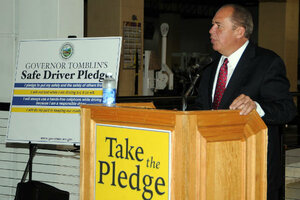 Tammy Shriver/Times-West Virginian/AP
My son Sam has an idea for an app to help stop texting while driving: "When you're driving and a friend texts you, the app sends back an automatic text saying 'Sorry, I'm driving, I can't answer your text. Back 2 u soon.'" Or, for phone calls, the app lets you record yourself in a message for callers that says something like that.
Sam suggested that when he saw I was writing about a new survey finding that 44% of 16-to-24-year-old drivers say friends are the biggest influence on them for curbing their texting while driving. It found that parents were the next greatest influence at 33%.
The survey, by the Ad Council, was released today for "Stop the Texts Day," from the National Highway Traffic Safety Administration, the US's state attorneys general, and the Ad Council. It also found that 60% of those drivers said they'd texted while driving. Of that 60%, the majority said they'd continue to do so even knowing that TWD causes accidents.
On the solution side, 88% said a law against TWD would encourage them to stop or text less while driving, and 96% "said large fines, a suspended license and/or jail time, higher insurance rates and other financial and legal consequences would encourage them" to stop. Fining was a suggestion made by a commercial driver on the "Stop the Texts" Facebook page. He said that, when commercial drivers "get caught using a hand held device," they get fined $2,700 and their company gets fined $11,000.
---